Making Newham Home
Populo Homes is the part of the Populo Living Group that is registered as a social housing provider. Its role is to provide services to the residents of the affordable social homes we've built. As well as manage rentals, we look after the buildings and outdoor spaces, keeping them in top condition, and conduct or coordinate any maintenance needed.
 
The homes themselves are let at London Affordable Rents to those on the Newham Council housing waiting list in accordance with the Council's nominations policy.
 
We offer the same helpful, friendly and transparent service to all our residents – whether renting through Populo Homes or Populo Living. That means great homes, with great service, in great neighbourhoods. See examples of our affordable homes or find out more about renting with us.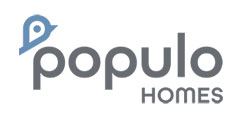 How to contact Populo Homes
Residents can contact us on [PHONE NUMBER] or using the Rent Café portal or app.
How do I rent a Populo Home
London Affordable Rent homes managed by Populo Homes are advertised to people on the housing register via the Newham bidding platform: https://www.newham.gov.uk/housing-homes-homelessness/apply-council-housing/2
Reports
Please check back soon. We will be adding our current / future documents soon.
Feedback
Populo Homes values your feedback.
The document listed below contains our Customer comments and feedback form, please see page 3 of the attached form.
Policies
Please check back soon. We are currently working on our policies and will upload them soon.
Our Status
Populo Homes is a charitable registered society for the benefit of the community (Registration Number 8219) and a provider of social housing registered with and regulated by the Regulator of Social Housing (RP No. 5114).
Complaints proceedure
We hope you will never need to complain about us, or our service. But if there is an issue we can't resolve to your satisfaction, here is information on how to complain, and what you can expect from us. Here are links to our:
Design & sustainability
As any responsible developer should, we commit to meeting or exceeding all green building standards now and in the future.