Brighter future ahead for Carpenters Estate as landslide 73% 'Yes' vote gives green light to new homes
Posted 15 December 2021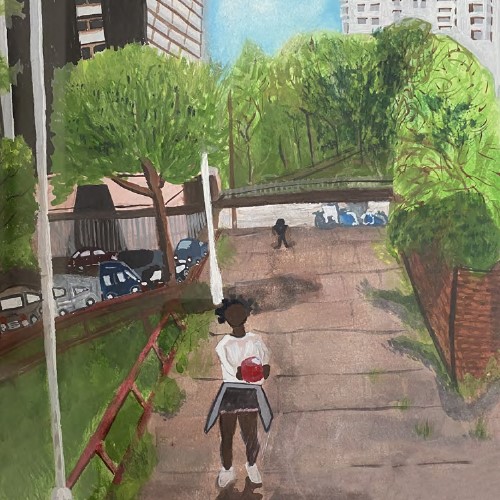 Local residents vote in favour of Council's Carpenters Estate restoration and regeneration plans with turnout at 66.5%
One of the largest estate regeneration programmes in London, the Carpenters masterplan will deliver over 2000 homes for local people, with at least 50% at social rent levels;
44% of existing homes to be refurbished in response to the climate emergency, alongside a new state-of-the-art community centre, green spaces and job opportunities.
Residents gave the green light today (15th December 2021) to a people-powered plan to restore the Carpenters Estate into a vibrant neighbourhood in the heart of Stratford; with new high quality homes people can afford following the outcome of the residents ballot where 73% resoundingly voted 'yes' to regeneration plans. 
 With a voter turnout of 66.5%, including residents moved off the estate but who have the 'right to return', Newham Council and its housing delivery team at Populo Living will now make good the promise to Carpenter residents to build a brighter future for them from the New Year.
 Following the outcome of the residents' ballot, the Carpenters Estate will undergo one of the most ambitious and largest estate regeneration programmes in London, with over 2000 high quality and sustainable homes delivered - including over 1000 that will be at social rent.  Of the existing homes on the estate, 314 will be restored to the highest standards as part of the Council's climate emergency response, including the refurbishment of James Riley Point starting in 2022.
 Mayor Rokhsana Fiaz said "After years of false promises and the failures of the past, I am over the moon that residents on the Carpenters Estate, including those who have a right to return, have decisively voted 'yes' in support of this people powered masterplan.
 When I became Mayor, I put an end to the Council's previous joint venture plans and made a promise to residents to work collaboratively with them on the future of the estate as their advocate who will always be on their side.
 Since that time, and over three-years on, hundreds of hours of conversations in meetings and workshops have given the green light to this next chapter of hope for the Carpenters Estate. 
 I am excited for its future and for local residents who will benefit from over £1 billion of Council investment in high quality new homes they can afford, and a wonderful community centre which will be the thriving heart of the estate. After so many years of being let down, they finally have certainty about the future of the Carpenters Estate. I can't wait to see it transform into a vibrant neighbourhood for our people in Newham to live in and call home."
Notes to Editors
The Carpenters Landlord Offer and Masterplan, one of the largest to be put to ballot in London, includes proposals for over 2,000 homes, 50 percent of which will be genuinely affordable, social rent Council homes; with new community and sports facilities, improved green spaces (including a large central park area), business and employment opportunities. Of the existing homes on the estate, 44 percent will be refurbished.
Following the successful ballot result, Newham Council wholly owned housing delivery company - Populo Living - will proceed with the initial phase of the decade long regeneration project. This will include the refurbishment of James Riley Point, which will provide 136 council homes and a new community and sports centre built at the base of the Tower. The whole Carpenters Estate project will be delivered over a phased programme of works, to minimise disruption to residents and ensuring that they only have to move once into their new home.
The Carpenters Estate, next to the Olympic Park and Stratford Station, has seen many redevelopment attempts over the last two decades. Following her election in May 2018, Mayor Rokhsana Fiaz threw out the previous administration's joint venture plans for the estate. In February 2020, Mayor Fiaz tasked Populo Living, Newham Council's housing delivery company, to co-design a viable Masterplan for the Estate with residents.
Between 19 November and 14 December residents were asked to vote on the Council's Landlord Offer, which included the co-designed Masterplan, via the resident's ballot either online, by post, over the telephone or by text. The ballot was organised and run by Civica Election Services (CES). The Landlord Offer document is available here.
More information and all consultation material is available on the community website: https://thecarpentersestate.commonplace.is/
Restoring and regenerating the estate is planned to be completed on a phased basis so that as many eligible residents as possible only have to move once, straight into their new home. For more information see: https://thecarpentersestate.commonplace.is/proposals/draft-phasing-plan-june-2021
  Contact
 Newham Council Communications Team can be contacted by email at media@newham.gov.uk
---
---
Archived Populo News
Categories