Marius and Bris (and Leia!) - Gregory House
Posted 27 November 2019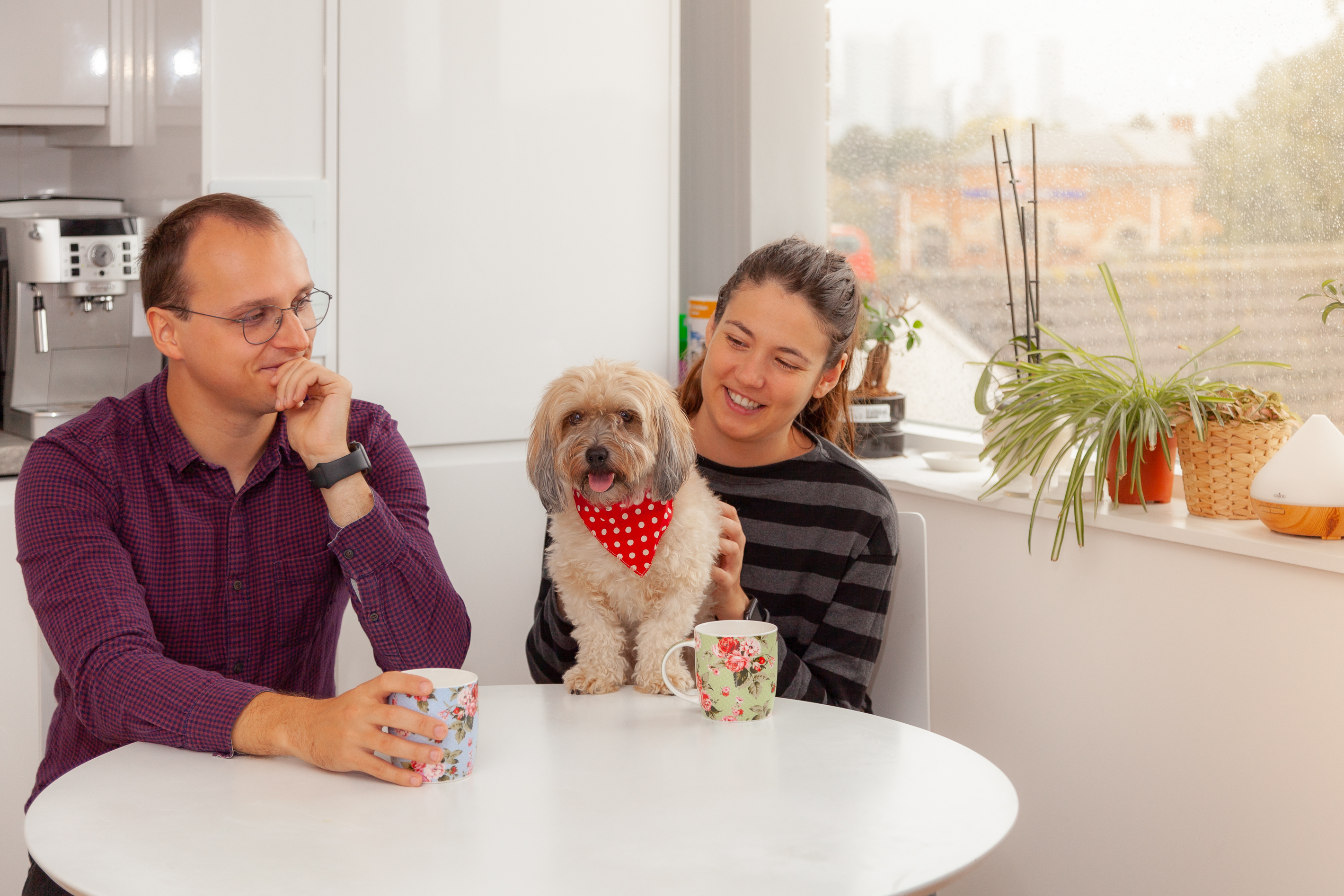 Marius and Bris live in Gregory House in Plaistow. After two years in a ground floor flat in the building, they have recently moved up a few floors and love the larger living space and views over the city.
Kicking off by asking why live here, the answer is immediate: it's dog friendly. Their dog, Leia, a havanese, is two and a half years old. She is quite simply adorable! "A pet friendly flat is hard to find in London. We were searching for a while. To find somewhere like this, modern and spacious, that allows pets, is amazing," says Bris. Leia isn't the only pet in the building. "There's a chihuahua on the first floor and there's also a rescue dog who lives here too -  we always see him when we go for walks in West Ham Park." Marius adds, "It's not just dogs here either - there are a few cats but the most unusual animal at Gregory House has to be the parrot!"
When they found that Red Door allows pets, they started looking at all the properties on offer. Gregory House was the winning choice. It's just five minutes from the front door to the station platform and so the location is perfect for the couple. Red Door's pet policy means that well behaved pets - that means not disturbing neighbours, not making a mess and crucially not being left alone all day (four hours max) - are allowed. While they are both at home to meet us today, Marius and Bris tend to alternate their 'work from home' days so that they can care for Leia.
Bris moved to London from Romania nine years ago for university and has never left! In fact she is still at university - a PHD student at University College London. Marius followed her five years ago and is a software developer. When they moved to the flat upstairs, it was so easy. "The office were really helpful and made everything very simple. Plus there was no need for bubble wrap, simply a case of transferring everything up a few stairs!"
Twelve months ago Red Door took the management of all their buildings in house and this has been a game changer for Marius and Bris. "Its much better than before. Our Property Manager, Olivia, is great. If we need replacement keys or fob - or minor things like a door sticking - the team is on it straight away. The communication is always good."
Red Door offers furniture packs for all their homes - perfect for the couple who have moved around a bit since living in London, and it's clear they are happy here. "We have already recommended three friends look at living here. The building is great, the management team are always responsive," says Marius. Bris adds, "The bike storage has been a major plus point too. I go swimming in the Aquatic Centre in Stratford two or three times a week, which is just a few minutes on my bike. It's one of the best pools in London, and just down the road."
The couple are clearly exercise lovers, they also enjoy heading to the Excel Centre down the road, where they regularly go open water swimming. And this weekend, Marius is off up to Birmingham to run a half marathon, while Bris stays at home with Leia!
Marius admits he didn't always want a dog. "It was Bris who managed to convince me - although it did take her three years." There's no looking back now though. Leia, with her array of tricks, certainly rules the home!
---
---
Archived Populo News
Categories